© Jessica N. King-Cason
What you'll need:
4ply Yarn and a G Hook the bigger the Hook the Bigger the Flower will be
Tapestry Needle and Scissors
Also: You can use Crochet Thread with 00/3.50mm crochet hook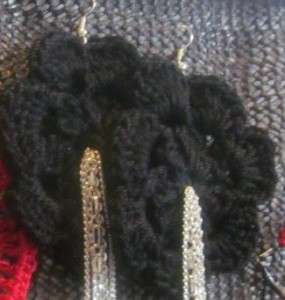 (Picture of the Flower using crochet thread)
Stitches that will be used in this Pattern
Magic Circle: MC
Single Crochet: SC
Chain: CH
Double crochet: DC
Slip Stitch: Sl St
Bobble Stitch (My Version) Work 4 dc, with each double crochet you do keep one loop from the double crochet, remaining on the crochet hook, then go through all loops at the end of the 4th dc
Let's get started:
Round 1: Start with a MC, 14sc inside the MC, join
Round 2: ch3, work 3dc into the same stitch, (Remember to keep one st , remaining on the hook from each double crochet) yarn over and go through all loops on the hook.  *Ch 4, skip 1 single crochet, 1 bobble stitch in the next sc*, repeat all the way around , Ch4 join at the beginning of your 1st ch4  (You should have 7 bobbles all together)
Round3: Sc in the ch4 sp, 7 dc in the same ch4 sp, *sc in the next ch4 , 7 dc in the same ch4 space*
*Repeat all the way around * Join in the back of your 1st sc
Draw up a small tail
Cut and weave all ends!
Peace, Love and Happy Crocheting!